To complement our extensive portfolio of UPVC windows, doors and conservatories, ArcOframe's composite doors UK have the look and feel of timber- combined with the low maintenance yet high security aspects of UPVC, making them our bestselling product.
Selecting a front door for your house can be a hard decision to make, especially if you're to choose the safest model that enhances the style of your property at the same time.
Years ago, manufacturing arched composite doors UK meant creating three separate D frames and positioning them around the door. Now, we are able to manufacture arched composite doors as one complete frame- giving a more professional, polished appearance.
Our rectangle and arched composite doors come with:
Adjustable high security hinges
Cassette system with 24mm toughened glass unit
Optional automated locking (optional)
Fully sealed to prevent water penetration
High thermal and sound insulation up to 9 times more than a timber door
We have a vast range of glass options and designs to choose from, making these doors adaptable for every type of project possible.
What are the benefits of Arched Composite Doors?
Some of the benefits of arched composite doors include:
Can be used internally and externally
Keeping heat in during colder periods such as winter
Keeping your room cool in the summer
Safer than a wooden door with a top of the range locking system
Easy to clean and paint free
All of our composite front doors and composite external doors are made from UPVC, however, they are supplied in an assortment of colours and come with a wooden look to make them more traditional. With a selection of different glass options and designs to go in the composite external doors, you have the opportunity to personalise the door to suit the style of your house.
These doors are steel reinforced and come with a multi-point locking system, making them the safest doors on the market. Could you benefit from one of our composite doors?
Our range of contemporary and traditional composite front doors will help to add character and style to your home from the outside. With the benefit of the look and texture of wooden doors, our composite doors are not vulnerable to the elements, and don't need treating to preserve their colour.
We design, manufacture and install arched composite doors throughout the UK, for any further information please call us on 01744 615 111.
Before And After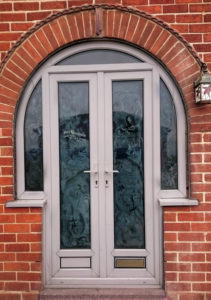 FAQ's
1. What are arched composite doors?
Here at ArcOframe, we produce the very best in arched composite doors.
They are designed to fit an arched doorframe, marrying up a classic and traditional feel with a look that is straight from the modern-day. They are useful in the sense that they are versatile and allow you to keep the brilliant brickwork of an arched door, without having to knock through and go for an entirely new style.
As well as looking the part, making your home more attractive from the inside and out, they are also durable. As composite doors can be used externally and internally, they provide the function of any other door and can easily cope with the general wear and tear of a building's interior, as well as the ever-changing weather on the outside. To find out more about our arched composite doors be sure to get in touch with the experts at ArcOframe today.
2. Do arched composite doors save energy?
The short answer to this is, yes! Arched composite doors are a very strong solution that can  massively reduce heat loss. Did you know, 30-35% of heat loss happens via caps in walls around windows and doors? That's why, it may be worth reconsidering your current door and changing to something more energy-efficient!
Arched composite doors boast a much smaller U value in comparison to other kinds of doors, meaning that far less heat can escape when the door is closed. This kind of door will save you a pretty penny on your energy bills throughout the year.
Get yourself a door that doesn't just look and feel good but will also prove to be a smart investment for years to come.
3. Can arched doors be made to measure?
You will be glad to know that at ArcOframe, we ensure that our arched doors are made to measure, meaning whatever size door you require, we can manufacture a model to fit your specifications. This allows everyone to benefit from our arched composite doors, no matter how small or large your door may be. The team at ArcOframe will happily design the door of your dreams, then manufacture it with our expert equipment in-house. We will then complete our turnkey service by installing arched composite doors up and down the UK, so no one gets to miss out on our top-quality surface.
4. How much do arched doors cost?
Here at ArcOframe, we make sure that our service is completely bespoke to each customer. After all, every person's needs are different, and the shape and size of their arched doors are never likely to be the same. This is why we never list specific prices on our products, as this can often change based on a variety of factors. This includes its size, glass glazing, the type of arch etc. This is why, when filling out our order form with your specific requirements, we are able to give you a competitive quote that is the exact price you will be paying.
This way, we can have a better idea about what kind of arched composite doors you require, so it can perfectly meet your needs, without worrying about any hidden costs later down the line! Make sure you get in touch with us today and we can quickly draw up a price for you.
5. Can the style of arched doors match the styles of new or existing arched windows?
We pride ourselves on the flexibility of our service here at ArcOframe. We take your requirements into account and deal with them on a client by client basis. This allows us to produce arched composite front doors that are exactly what you are looking for. Whether you have existing arched windows or ones that you are looking to install with your new doors, just let us know by using our order form and we can discuss the options with you. With many years of experience in the field and expertise in the area, we can produce the product that you are specifically in need of, just get in touch today!