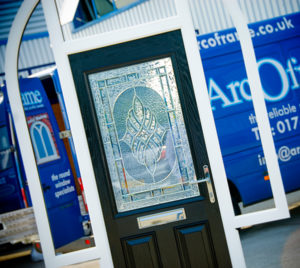 ArcOframe's composite doors have the look and feel of timber, combined with the low maintenance yet high security aspects of UPVC, making them our best selling product.
Years ago, manufacturing arched composite doors meant creating three separate D frames and positioning them around the door. Now, we are able to manufacture arched composite doors as one complete frame – giving a professional, polished appearance.
ArcOframe's rectangle and arched composite doors come with;
Adjustable high security hinges
Cassette system with 24mm toughened glass unit
Optional automated locking (optional)
Fully sealed to prevent water penetration
High thermal and sound insulation up to 9 times more than a timber door
We have a vast range of glass options and designs to choose from, making these doors adaptable for every type of project possible.
Please follow the link to view the range and options available
All of our doors are made from UPVC however they do come with a wooden look to make them more traditional with a range of colours to select from. With a selection of different glass options and designs to go in the doors you can personalise the door to suit the style of your house. These doors are steel reinforced and come with a multi-point locking system, making them the safest doors on the market.