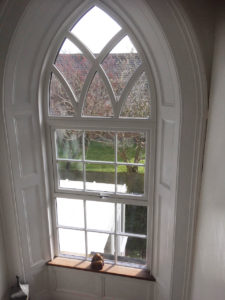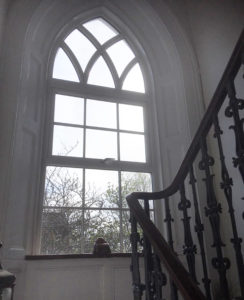 Often found in churches and cathedrals, gothic windows offer a unique sense of style. The unusual, decorative design of their frames makes them a striking feature and a fantastic addition to any building.
As with any of the products that we supply here at ArcOframe, our gothic window frames are manufactured from the highest quality materials. Creating the perfect arch for gothic windows requires precise craftsmanship and our wealth of industry experience allows us to design and create windows to exactly match customer specifications.
To create a gothic window frame, and to make sure that it lasts for many years to come, a special process is required. The ArcOframe experts have the knowledge and expertise to design, manufacture and install the frames to an exceptionally high standard – enhancing the appearance of your building both inside and out.
The timeless design of the frame makes it a favourite for many. So, if you're looking to add character and style to your property, what better way to do so than by investing in a gothic window frame from ArcOframe?
We can provide frames for gothic windows in a range of sizes and styles. Regardless of the profile and colour of your window frames, we ensure that there is a continuous finish applied – creating a professional look and feel.
Find out more about our gothic style frames by calling us on 01744 615 111 today.
FAQ's
What are gothic frame windows?
Gothic windows are a type of arched window that can add a unique feature to virtually any property – be it periodic homes or historical buildings, such as churches and cathedrals. They look great on modern houses too.
As is the case with most gothic architecture, gothic frame windows feature a:
pointed arch
ribbed vault
flying buttress
They were traditionally made from a stone slab during the mid-12th century. However, modern-day technology has made it possible for these special window frames to be made from uPVC, meaning they're more eco-friendly than ever before.
Available in a choice of colours and sizes, gothic style windows are guaranteed to add charm and character to your property.
What are the benefits of gothic window frames?
Gothic window frames are timeless features that exude elegance and style – no matter what building they're used on.
Much like any other square or rectangular window, gothic windows are thermally efficient. The only difference is they come to a point at the head of the window – creating a stunning visual statement both on the inside and outside.
Most of the uPVC profiles we use to create gothic style frames are made from recycled materials. When these frames reach the end of their lives, they can be recycled up to 10 times. Ideal if you're looking to do your bit for the environment whilst reducing your costs and enhancing the appearance of your property!
Another thing worth noting about these windows and frames is that they are made bespoke. The team here at ArcOframe work to your exact specifications, ensuring your new windows fit like a glove, look fantastic and stand the test of time.
Are gothic windows expensive?
It's difficult to put a price on gothic window frames, as they are made to measure to ensure a seamless fit.
The good news is, whether you need small gothic windows or larger frames to invite more natural light in, our profile bending experts will always discuss your requirements before offering a detailed estimate. This way, you can be confident that your gothic frame windows will match your exact specifications and budget.
Once we get the green light from you, we will then start to manufacture your bespoke arched frames in-house. After that, we'll install them at your property and test them fully before the handover.
If you'd like to know more about our gothic window frames and how we price our services, don't hesitate to give us a call on 01744 615 111.
Will gothic frames suit my property?
Though commonly used in historical buildings, gothic windows and frames are a fantastic choice if you're looking to add more personality and character to your home.
Whether you're feeling inspired by the stunning stained-glass windows you've seen at the cathedral or you're a lover of all things shabby chic, we can create gothic frame windows to match your exact preferences.
At ArcOframe, we consider no job too big or too small. Our industry experts have vast experience when it comes to profile bending and can supply these uniquely shaped window frames in all sizes and styles.
Why not get in touch today to discuss your needs further with our team? We'd love to hear from you and create bespoke gothic window frames for your home or business.