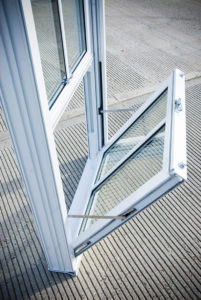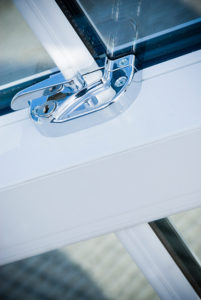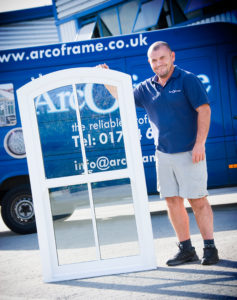 ArcOframe are market-leaders in UPVC profile shaping, with more than 10 years of experience in the window and door industry. As manufacturers and suppliers, we have the workforce and resources to constantly update and develop advanced window systems, enabling us to meet our client's ever-changing needs.
If you're looking for vertical sliders and arched vertical sliders, why not consider our REHAU and Eurocell profile systems?
REHAU Vertical Sliders
REHAU profile systems are sympathetic in style yet innovative in design – presenting a whole world of new opportunity, in both the replacement and new build market. The system offers a wide range of features and benefits, including:
Triple Chambered profiles which ensure good thermal insulation – achieving an 'A' Window Energy Rating (WER).
Kitemark accredited extruded profiles produced in accordance with BS EN12608:2003 including a SEVERE rating for Classification of climatic zones.
The system is approved by BS7950:1997 (2007) security standards.
Are you looking to maintain the period features of Georgian sliding windows, whilst eliminating draughts, rattling sashes and poor security that often comes with them? If so, the Eurocell vertical sliding windows are ideal.
Eurocell Vertical Sliders
Eurocell profile systems allow you to bring a new lease of life to cottage-style dwellings and renovation project. The vertical sliding windows offer the following features and benefits:
Improved security – Anti-jemmy bar to prevent break-ins and reinforced hardware for optimum security.
Peace of Mind – 10 year guarantee against warping, discolouring and cracking.
Accredited standards – Accreditation by the British Board of Agreement (BBA) and British Standards Institute (BSI).
Our vertical sliders are beautiful and add distinctive character to your home – combining traditional features of a sliding sash window with the advantages of modern UPVC materials. They operate like a traditional box sash window, with the top and bottom sashes sliding up and down individually or simultaneously.
Here at ArcOframe, we also specialise in arched vertical sliders to fit into required spaces in your property following your specifications. Using the latest modern technology, our highly experienced team fully weld and polish your customised windows and leave no visible joints.
All our vertical sliding windows are manufactured and tailored to our customers' requirements. We offer a range of sash sizes at competitive prices, so if you need to know more, feel free to contact us today.
FAQ's
1. What are vertical sliders?
Vertical sliders, also known as 'vertical sliding windows' and 'sash windows', are amongst the most popular window styles on the market today. They carry the beauty of a classic design, mixed with the latest innovations. Vertical sliding windows are an excellent choice for old-style properties, allowing them to retain their traditional charm, and can also add character to modern homes.
</ br>
</ br>
For more information about vertical sliders, call us on 01744 615 111
2. What are the benefits of arched windows?
Vertical sliders offer a host of impressive features that not only add to their good looks but also enhance the performance of the product. They maintain the elegant properties of traditional windows whilst incorporating  modern technology – providing low maintenance and high security.
Here at ArcOframe, we supply a range of REHAU and Eurocell vertical sliders that are easy to clean – allowing you to maintain stylish windows for many years to come.
Our range of REHAU sliders are sympathetic in style and innovative in design. And, with triple chambered profiles ensuring excellent insulation, they achieve an 'A' window energy rating. REHAU vertical sliders also incorporate triple brush seals for superior draught proofing – helping you to save money on your energy bills.
Eurocell vertical sliders feature 'anti-jemmy' security bars that are fitted to the locking edge of the window. This security measure prevents the window from being prised open and prevents break-ins – providing you with extra security and peace of mind. What's more, Eurocell vertical sliders boast an aesthetic appeal which can be enhanced with a range of decorative sash horns and fixings.
3. How to open vertical sliding windows?
Our vertical sliding window range combines the elegance of traditional sash windows with the performance benefits and structural integrity of modern materials. Vertical sliders are easy to open. All you need to do is unlock the catches with the key provided and turn the lever 180°. After this, you can simply slide the window open by pushing the bottom window up or the top one down – allowing air to ventilate.
If you'd like to know more about opening vertical sliding windows, or for advice on cleaning and maintenance, get in touch with the ArcOframe experts today.
How much do vertical sliders cost?
The price you'll pay for vertical sliders can vary depending on several factors, particularly your design choices.
Here at ArcOframe, we can assure you that we design and supply vertical sliding windows to suit your exact requirements and measurements. We also pride ourselves on offering competitive prices, ensuring our customers receive the best value for their money when updating their windows.
The best way to determine how much vertical sliders will cost you is to contact our team. We can then discuss your requirements in further detail and provide an accurate quote for your new windows.
To talk through your options over the phone, give us a call on 01744 615 111. Or, if you prefer, you can send an email to info@arcoframe.co.uk or complete the enquiry form outlining your needs and wants, and we'll get back to you with a price for vertical sliders as soon as possible.
Does it take long to install vertical sliding windows?
It's difficult to put a timescale on matters, as it typically depends on the size of your windows and how many you need. In some cases, it can take as little as a few hours, whilst others will take a full day.
As you'd expect, larger expanses of glass take longer to fit than smaller ones. However, our uPVC and aluminium specialists aim to complete the installation of vertical sliding windows with minimal disruption to you and your family.
We work hard to install your new vertical sliders as quickly as possible without sacrificing quality or safety. Once we've fitted your windows, and we've checked they're secure, we'll make sure that your property is left clean and tidy – just as we found it.
For a better idea of how long it will take us to install vertical sliders at your property, get in touch with the team at ArcOframe today.
</ br>