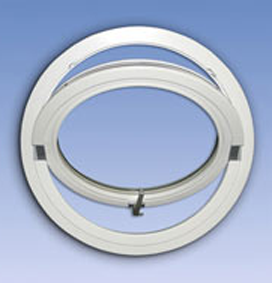 A porthole – sometimes called a 'bull's eye window' – is just one example of the round window frames that we supply here at ArcOframe. With a classic circular frame, porthole windows offer a superb alternative to traditional square or rectangular windows and are guaranteed to make a statement in any room.
The porthole window is often used on boats and barges, but more and more homes are choosing to install round windows to add a unique sense of style to their property. Choosing something different, like one of our innovatively designed UPVC porthole window frames, will allow you to transform your space into something unique and modern.
We supply an unlimited choice of designs and finishes. Each porthole window frame – whether it be a round window, oval window or circular window – is fitted with adjustable friction and safety restrictors as standard. You also have the option of adding lockable security catches to enhance security further.
All our contemporary UPVC porthole window frames are fabricated from top quality materials and are installed by industry experts.
If you need to know more about the porthole windows and round frames that we supply at ArcOframe, please give us a call on 01744 615 111 and our team of friendly experts will be more than happy to help.