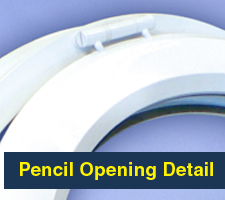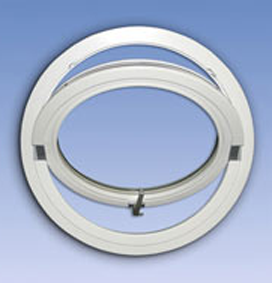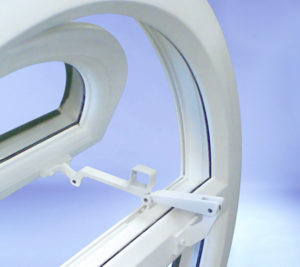 Working to the latest industry standards and techniques, ArcOframe manufacture fixed, opening and full pivot rounded UPVC windows.
At ArcOframe we are proud to offer quality and bespoke UPVC round windows as well as oval and circular windows. Our stylish product ranges include bespoke round window frames and circular frames, which are available to order in a range of diameters and sizes.
As an experienced and reputable manufacturer and supplier of fixed or pivot opening circular frames, we think nothing less than designing our products to meet your exact specifications.
How do round windows work?
The ArcOframe experts use precise measurements to manufacture frames that not only work as required but are also aesthetically perfect. Adjustable friction and safety restrictors are fitted as standard, with a unique pencil operating system fitted in half opening frames.
Our half opening circular frames are fitted with a unique pencil operating system, and we are able to offer both fixed and fully operating round windows which are completely reversible. This accommodates ventilation and cleaning requirements in areas which are inaccessible from the outside.
Included within our range of products, we supply the round window frame in a variety of sizes, including:
Fixed circles from 380mm
Opening circle from 480mm
Pivot windows from 700mm
Why should you choose a round window frame?
An example of a round window frame includes the porthole windows. Our porthole windows are often used on boats and barges to enhance comfort and privacy.
These round window frames have adjustable friction and safety restrictors fitted as standard, with the option of adding lockable security catches on request.
No matter what you are looking for, whether it be a round window, oval window or circular window, our porthole windows have their own distinctive style and what's more, ArcOframe offer high quality windows at competitive prices.
In addition to this, our fabricators are experts in utilising materials and profile systems effectively which allows them to achieve the best outcome for all designs.
For further details or information relating to the round window frame and porthole windows, please give us a call today on 01744 615111 and our friendly team will be more than happy to assist you.
FAQ's
1. What are round windows?
Round windows break from the uniform familiarity of a standard rectangular window, instead offering an attractive circular frame. They present a fantastic design solution to really add personality and distinction to your home.
Sometimes referred to as portholes, circular or curved windows, round window frames can transform a space with minimal effort or expense. Available in a wide range of sizes, they can work well pretty much anywhere – from a small bathroom porthole to a large centre piece in your lounge.
If you'd like to know more about round windows, get in touch with our friendly team of experts who will be happy to assist. Call 01744 615 111 or email info@acroframe.co.uk.
2. Do round windows open?
Yes – if you want them to! Not only do round windows look great, they can also work and function just like a regular window. So you get all the benefits of a rectangular opening frame – such as ventilation - whilst really standing out from the crowd.
Don't want your round window to open? Not a problem. Here at AcrOframe, we work to the very latest industry standards and manufacture our round windows in a choice of fixed, opening, and full pivot UPVC frames, so the choice is yours. Worth keeping in mind though the practical benefits offered by a pivot window - being fully reversible it makes cleaning a much simpler task, especially if your frames are inaccessible from the outside.
3. Where are round windows installed?
When it comes to where round window frames can be installed, the only real limit is your imagination.
Traditionally found in churches or on boats, today round windows are used to add design and personality in all manner of locations. An attractive feature within a roof apex, a focal point on stairs and landings, bathrooms – you name it, the options are endless. Got a mini pirate or mermaid fan? Rounds window can even make a fun addition to a kid's bedroom or playroom, sparking hours of imaginative play.
Available in a variety of sizes our rounds windows frames can be made as part of our bespoke services, meaning that whatever size of round window you need, we'll be happy to work with you to achieve it. Call us today on 01744 615 111 or email info@arcoframe.co.uk.
4. What are the benefits of round windows?
Round windows can give your home a unique look and bring in lots of natural sunlight.
These custom shaped windows typically require less space than traditional square or rectangular windows and can be added almost anywhere in the home.
Whilst round window frames are an excellent choice for modern homes, they also accentuate the curb appeal of older properties – known and loved for their uniquely shaped windows.
They work well as a standalone focal point, adding plenty of character and visual interest to bedrooms, bathrooms, kitchens, hallways, and stairs.
Here at ArcOframe, all our round windows and frames are made to measure to ensure they fit like a glove.
For more information about round windows and their advantages, or to discuss your requirements with an expert, get in touch.
5. Are round windows expensive?
Round windows tend to be pricier than regular window styles as a result of their unique design.
The price you'll pay often depends on the size of the window, with larger expanses of glass costing the most. The complexity of the design can also influence the cost, as can the materials used.
Here at ArcOframe, we do everything we can to minimise the costs for our customers and can assure you that our round windows are made to measure.
We even supply round window frames in an assortment of sizes. These are manufactured from uPVC, which is generally the lowest cost option and super simple to maintain.
If you'd like to receive a quote for round windows and frames, give us a call on 01744 615 111 or email info@arcoframe.co.uk.